Delinquencies in Installment Loans Hold Steady in Second Quarter
Installment loan delinquencies held steady in the second quarter of 2018, according to the American Bankers Association (ABA). Since 2003, installment loan delinquencies for closed-end loans remain well below the 15-year average of 2.13 percent.
ABA tracks 11 loan categories, eight of which are closed-end loans (i.e. direct and indirect auto, marine, mobile home, home equity, personal loan, property improvement, and RV loans) and three of which are open-end loans (i.e. bank card, home equity lines of credit, and non-card revolving loans).
The composite ratio that tracks delinquencies (defined as any late payment that is 30 days or more overdue) for closed-end installment loans rose to 1.76 percent, fueled largely by delinquencies in home equity loans (see image below). In contrast, the 15-year average composite ratio is 2.13 percent. Personal loan delinquencies dropped from 1.65 to 1.47 percent.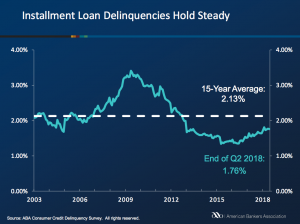 "As the economy keeps humming along, delinquencies have stayed at very low levels," said James Chessen, ABA's chief economist. "Overall, consumer financial health has been excellent. Jobs are plentiful, wages are rising and savings rates have held steady at elevated levels, which paints a vivid picture conducive to low delinquencies.  While delinquencies have held steady, the holiday season is fast approaching and a watchful eye on budgets is the key to successfully managing debt obligations."

A similar finding was reported by the New York Federal Reserve (NY Fed) in their August report, "Household Debt and Credit." The NY Fed found that aggregated delinquency rates dropped slightly during the second quarter of 2018. The NY Fed looked at several different loan types, including mortgage accounts, home equity revolving accounts, auto loans, bank card accounts, and student loans.