Five Things You Should Know About Your Taxes
Tax season is upon us! Every year tax season runs from January 1 until April 15. While taxes aren't most people's idea of fun, understanding your taxes is vital to overall financial health. The Native American Financial Services Association's (NAFSA) Financial Literacy Program has added a Taxes module to the Finances 101 playlist to help break down tax basics.
To give more insight into tax season, NAFSA has compiled a list of "fast facts" pulled from the Financial Literacy Taxes module. These facts provide a knowledge base that is useful before tackling personal taxes.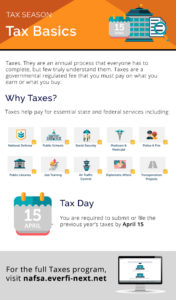 What is a tax?
A tax is a fee regulated by the federal or state government that must be paid on money earned, such as a paycheck. This is known as a direct tax and is paid directly to the federal or state government.
What is the IRS?
The Internal Revenue Service (IRS) is the federal agency responsible for collecting income and employment taxes, as well as estate and corporate taxes.
Who collects state taxes?
Most state taxes are collected by the individual states' Department of Revenues.
When are taxes due?
Taxes must be submitted or filed with the IRS by April 15 each year unless an extension has been filed. This year, according to the IRS, "The filing deadline to submit 2018 tax returns is Monday, April 15, 2019 for most taxpayers. Because of the Patriots' Day holiday on April 15 in Maine and Massachusetts and the Emancipation Day holiday on April 16 in the District of Columbia, taxpayers who live in Maine or Massachusetts have until April 17, 2019 to file their returns."
Why do we pay taxes?
Taxes pay for essential state and federal services like national defense, public schools, social security, and much more.
For a more in-depth look at taxes, the associated forms, and the impact taxes have on your paycheck, be sure to check out NAFSA's Taxes module You can also consult a tax professional or financial advisor to determine what is best for your personal situation.
Through the Financial Literacy Program, NAFSA provides financial literacy modules and tools with easy-to-understand information to help people better comprehend their finances and make more informed decisions.

Explore the program today: https://nafsa.everfi-next.net/