The Native American Financial Services Association (NAFSA)
NAFSA is a 501(C)(6) registered trade association in Washington D.C. that represents the interests of Tribal governments and tribally-owned or tribally-serving businesses engaged in the financial services sector. NAFSA advocates for tribal sovereignty, the protection of consumer rights, and provides vital services to our members that further economic development opportunities in Indian Country.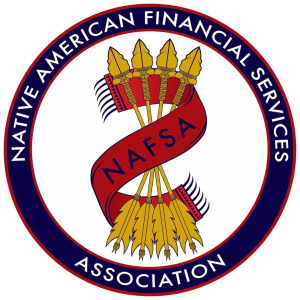 Mission
To advocate for tribal sovereignty, promote responsible financial services, and provide better economic opportunity in Indian Country for the benefit of tribal communities.
Vision
To improve the welfare of sovereign nations through new e-commerce business and employment opportunities in the financial services industry.
To develop and provide financial products and services which responsibly meet consumer need with transparency, value, and convenience.
To protect Native American sovereignty and fight discriminatory practices against tribal government-owned businesses that operate in compliance with the applicable laws of the United States of America.
Interested in Becoming A Member?
NAFSA is open to any individual, sovereign nation, business, or association committed to the purposes and policies of our Best Practices and Bylaws. All applications will remain confidential and require approval by NAFSA's Board of Directors.  Dues are structured/tiered by Member type.
ATTN: NAFSA is a trade association, not a lending institution. We do not provide loans of any sort.
To request a membership application, or to learn more about NAFSA, please complete the form below.