CFPB Announces New Rulemaking on Debt Collection Practices
The Consumer Financial Protection Bureau (CFPB) released its annual report on the Fair Debt Collection Practices Act (FDCPA) earlier this week. In the report, the CFPB announced that it would issue a Notice of Proposed Rulemaking (NPRM) that would address debt collection issues, including communication practices and consumer disclosures.
Debt collection remains a priority for the CFPB. In 2018 alone, the federal agency received more than 81,500 debt collection complaints, making it one of the most complained about issues in financial services. According to the report, about 40 percent of the complaints are from consumers saying that a debt collector attempted to collect on a debt not owed. Many claim that the debt was not their debt or that it had already been paid.
Other common complaints surround the communication tactics employed by debt collectors, including frequent or repeated calls, and debt collectors threatening negative or legal action, including threats that the debtor's credit score would be damaged or threats to sue on old debt.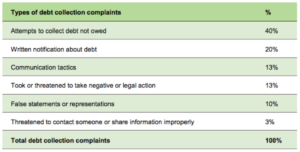 The CFPB also asked debt collection companies for a response if they were mentioned in a consumer complaint. About 78 percent of the responses are categorized as "Closed with explanation," which "indicates that the steps taken by the company in response to the complaint included an explanation that was tailored to the individual consumer's complaint." This would include responses that "substantively meets the consumer's desired resolution."
The report also stated that the CFPB had engaged in six public enforcement actions in 2018 against alleged FDCPA violations, four of which are ongoing. In contrast, the Federal Trade Commission, which also enforces FDCPA, has brought or resolved seven debt collection cases in 2018, resulting in $58.9 million in judgments and the banning of 32 companies or individuals from ever working in debt collection again.
For next steps, the CFPB is planning to issue a NPRM that would address debt collection issues such as communication practices and consumer disclosures sometime in Spring 2019.