Interactive Map Shows Importance of Native American Financial Institutions in Combating Credit Deserts
The Center for Indian Country Development (CICD) has recently unveiled a new interactive map of Native American-owned financial institutions. The map includes the locations and asset sizes of banks, credit unions, and community development financial institutions (CDFIs) primarily serving Native Americans.
There are nearly 100 Native American-owned financial institutions serving millions of people who live on or near tribal reservations every year. Without these institutions, many of these customers would be unable to access basic financial services since many live in so-called "credit deserts" where basic access to credit is unavailable.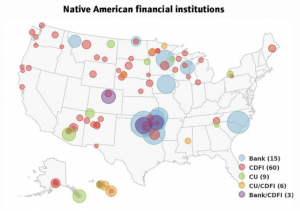 In fact, a 2017 study found that more than 50 percent of Alaska Natives and American Indians would not be able to come up with $2,000 if an unexpected emergency took place, a share that was higher than Asian-Americans, African-Americans, Hispanics, and whites. In addition, more than a third of Native Americans do not have a single credit card, a higher percentage than any other group surveyed.
"There's a whole history of Native people not being served, and there's another whole trend about Native Americans being preyed upon by payday lenders and check-cashing facilities that just charge exorbitant fees," said Patrice Kunesh, director of CICD. "They're paying a lot of money out of their own pocket to have a service that they should be able to have access to at nominal cost to them in their own community."
Not only are Native American-owned financial institutions providing access to financial services for millions of people, but Kunesh also points to the unique services that these financial centers can offer to their customers. For instance, the employees at Alaska-based Tongass Federal