NAFSA Hosts Second Annual Tribal Lending Regulatory Workshop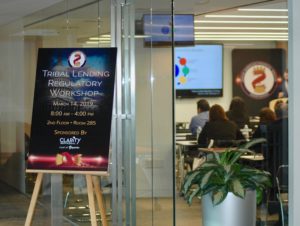 Yesterday, the Native American Financial Services Association (NAFSA) hosted its Second Annual Tribal Lending Regulatory Workshop. Tribal lending regulators, compliance officers, attorneys, and tribal officials gathered at NAFSA's headquarters in Washington, D.C to receive hands-on training in the regulatory compliance issues facing tribal lenders today.
The packed day kicked off with opening remarks from NAFSA Executive Director Gary Davis who welcomed the group to a full day of training and collaboration.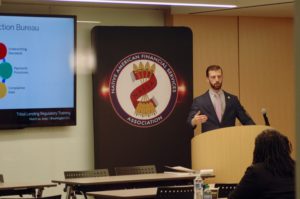 NAFSA's Director of Research and Policy Justin Fisk led the workshop with a detailed policy and legislative update. The presentation included the current regulatory and legislative environment with a focus on both federal and state level activity in financial services.
Van Ness Feldman LLP Partner Maranda Compton gave a dynamic update covering the latest trends in litigation, the legal arguments surrounding tribal sovereignty, and the importance of self-regulation.
In the afternoon, Fisk returned to the podium and presented a thorough and interactive overview of NAFSA's Regulatory Best Practices for attendees. The session reviewed industry best practices in advertising and marketing, vendor compliance, and much more.
The full day of training was concluded with breakout sessions where attendees worked through scenarios and shared personal experiences when dealing with regulatory compliance issues.
Throughout the conference, Congressional leaders, including Congressmen Scott Tipton (CO-3), Frank Lucas (OK-3), and Sean Duffy (WI-7), stopped by to provide remarks and learn more about the online lending industry.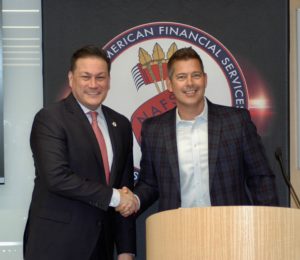 After the workshop, attendees gathered for a reception where they continued networking and discussing shared regulatory practices and issues.
The 2019 Tribal Lending Regulatory Workshop was generously sponsored by Clarity Services.
Experian's Clarity Services specializes in alternative financial services data and solutions. Clarity's suite of FCRA-regulated reports and scores give lenders visibility into critical subprime consumer information, including the thin-file and no-file consumer segments. Clarity is dedicated to making alternative financing services more accessible, trusted and effective for the clients and consumers it serves.